Adobe Commerce/Magento Open Source is a powerful and adaptable eCommerce platform that can be customized and linked with a variety of different software solutions to match your unique business requirements and objectives. To provide you with the greatest eCommerce solutions, our team has extensive expertise integrating Magento with Mirakl, Odoo, Akeneo, Oracle Netsuite, Contentful, and other systems.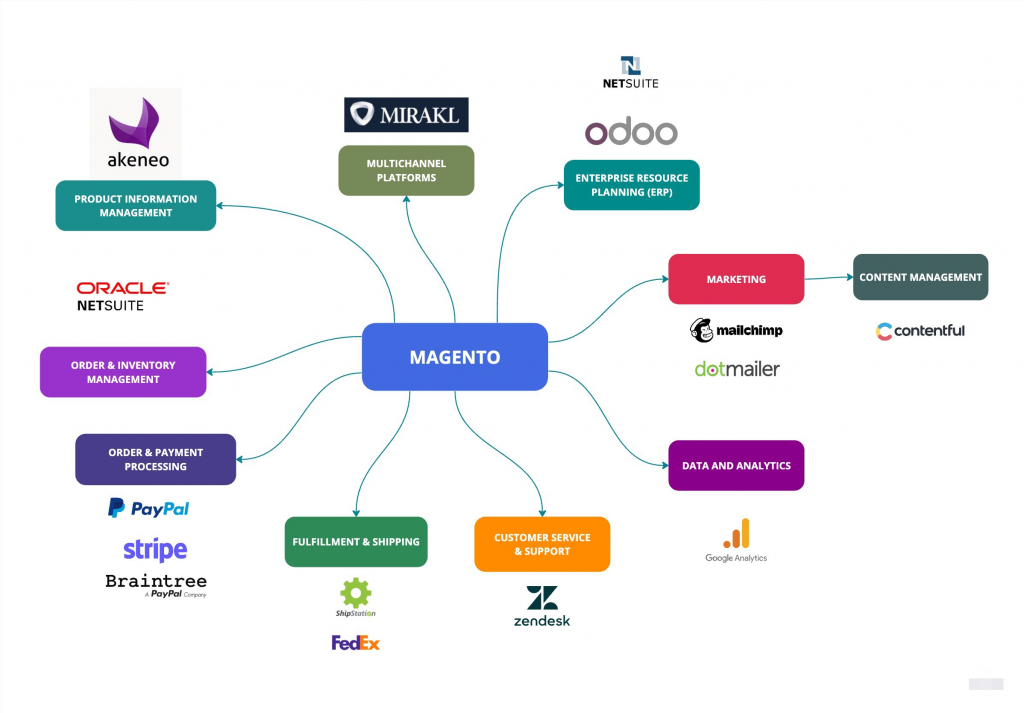 Mirakl
Mirakl is an industry-leading marketplace platform that enables you to establish and manage your own online marketplaces. We can assist you in expanding your product catalog, reaching new clients, and increasing your revenue by connecting Magento with Mirakl. We can also assist you manage the operations of your marketplace, such as order fulfillment, inventory management, and customer care.
Odoo
Odoo is a complete suite of business tools that covers many elements of business management, including CRM, accounting, inventory, and sales. We can help you streamline your company processes, automate your workflows, and boost your productivity by connecting Magento with Odoo. We can also assist you with synchronizing your data, including as products, orders, customers, and invoices, between Magento and Odoo.
Akeneo
Akeneo is a robust product information management (PIM) system that assists you in managing and enriching product data across numerous channels. We can help you increase the quality and consistency of your product information, improve your SEO and conversion rates, and minimize your time-to-market by integrating Magento with Akeneo.
Oracle Netsuite
Oracle Netsuite is a cloud-based ERP system that offers a unified solution for financials, CRM, e-commerce, inventories, and other business functions. We can help you gain real-time visibility into your business performance, streamline your cash flow, and automate your accounting operations by connecting Magento with Oracle Netsuite. We can also assist you with integrating your Magento and Oracle Netsuite data, such as orders, payments, customers, and taxes.
Contentful
Contentful is a cutting-edge content management system (CMS) that lets you generate and distribute content across numerous platforms. We can help you develop and manage compelling and dynamic content for your online store, such as blogs, landing pages, banners, and more, by integrating Magento with Contentful. We can also assist you in easily and quickly updating your material without interfering with the functionality of your store.
Our team has successfully completed several projects including Magento integration with Mirakl, Odoo, Akeneo, Oracle Netsuite and other technologies. We have the knowledge and skills to deal with any issues or requirements that may arise during the integration process. We are dedicated to providing high-quality, cost-effective solutions that satisfy the expectations and goals of our clients.
Related articles